Writing Mindset is an online blog that started in February 2017. I like to write about the teaching of writing and reading, professional development for teachers, inspiration for teachers who also write, and self-care.
Links to the Etsy shop where I sell wooden notebooks can be found below and here. Scroll down to hear more about my story.
If you are interested in working with me, please fill out the form below or reach out to me at stephanie@writingmindset.org
Click here for the Writing Mindset Media Kit 2019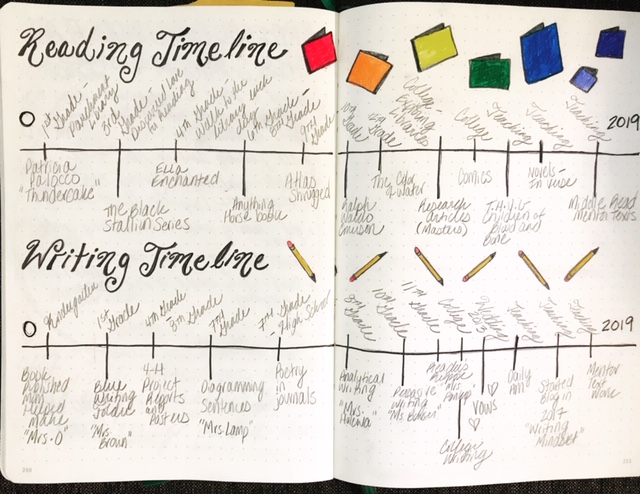 This is me in terms of reading and writing.
Check out my timelines. Try this activity out! How has reading and writing shaped your life?
A little more about me…
I am a sixth-grade English teacher in Kalamazoo, MI. Writing Mindset started because I wanted a place to reflect, share, and also put pen to paper (fingers to keyboard) my thoughts. I love writing. I have since I was little. I didn't always love reading, but somehow the two worlds merged together into one when I decided to become an English Language Arts teacher. The things is, I figured out that reading and writing is just the way I do business, not the reason why. The reason why is in the joy I get out of working with students. Relationships drive education. It seems kind of fitting that a blog is about connecting and sharing-the same way that I do in my classroom.
In the third-grade, I found The Black Stallion series by Walter Farley with the help of an amazing librarian, Mrs. Reistrar. I was raised in a household where reading mattered, but whenever we went to libraries I was given the freedom to wander. If you fast-forward through my timelines you can see many different times where I chose to wander around stacks of books. Even on bad days now, you will find me in the bookstore with books. I don't read as many horse books now, but the message has remained the same from when I was young: Give books to kids that they want to read. This may not always be about windows and mirrors; this may be about passion and heart.
My journey with writing has produced the blog, Writing Mindset. I started writing poetry when I was young. I would scribble my thoughts in verse from a young girl. It was a place of emotional release when I was frustrated. I hold this passion in my classroom and give time for students to write each week because they need it. We all need it. Writing is a way to communicate with the world, but more importantly, it is a way to communicate with our own selves. I still am grateful for Mrs. Lamp in 7th grade for making me learn how to diagram sentences, but I am more excited that I get to take the makeups of who I am as a reader and writer now and share them with my students, fellow teachers, and any readers that seem to make it to the blog.
Still have questions? Let's do some Q &A.
How long have you been a teacher?
This is my tenth year of teaching! I taught for two years at my district's alternative middle school, and then I transferred to my school now. My school has around 900 students total. I have taught sixth, seventh, and eighth grade English Language Arts. I am also certified to teach Speech/Debate.
Do you coach or sponsor anything at school? What other "roles" do you have?
I am my interdisciplinary team's team leader. This consists of running team meetings and keeping track of the team's schedule. I co-sponsor the book club at school called Pages. I used to run Spilling Ink, an after school creative writing club, but we merged book and writing club for the 2019-2020 school year. I facilitate my building's School Improvement Meetings and use strategies from Adaptive Schools. I also present training for my district in English Language Arts and help facilitate content related to Cultural Responsive Education.
Did you know you always wanted to teach middle school?
I did my internship in high school. I thought I wanted to teach high school and all things American Literature. Then, I was hired into my district's alternative middle school (the night before new teachers were supposed to report) and have never looked back. I love middle school. It is the perfect age group for my personality and energy level.
Why is it called Writing Mindset? Don't you teach reading, too?
I published a blog post on why I called the blog Writing Mindset. Simply, it was a name I couldn't shake. I am a reader AND a writer, but I use writing in every aspect of my life. I was pulled to the part of the name mindset as well because I am constantly thinking and reflecting. The name stuck. I do talk about reading on the blog just as much as I talk about writing.
Any advice for new teachers?
I love talking to new teachers and pre-service teachers! I like to start with building a natural sense of curiosity and building resilience for trial and error. Try things out and figure out what matters in your classroom based on your style and energy. I always urge new teachers to start with classroom management and building relationships. This could involve attention signals, movement, transitions, and engagement. You don't have to be at level 100 every day of class, but kids can tell if you are happy doing what you are doing each day.
What are your favorite education technology tools?
Google Classroom

Kahoot

Nearpod

Padlet

NoRedInk

NewsELA

Storybird

Flipgrid

Quizlet
Would you ever quit teaching?
I think every teacher would admit that they either have thought about it or routinely reflect on perhaps doing something else. Teaching is hard. I devote a lot of time to the mindset part of Writing Mindset because we have to focus on self-care. Teachers quit all the time. I can't say that I will stay teaching forever, but I do know that I can't think of anything else that is as rewarding and allows me to have the creative freedom in planning and design. Teaching feeds every aspect of my personality; therefore, I choose to stay each and every year so far.
What are some of your favorite things that have nothing to do with teaching?
Hanging out with my husband, Justin.

Walking our dog, Laker (Yes, we are LA Lakers fans)

Anything makeup/beauty related (Ulta and Sephora)

Summer bonfires/S'mores

Learning how to build a website and blog

Learning how to cook

Fixing things around the house. I love to paint!
What's your Starbuck's order?
This is an easy one…Grande Caramel Macchiato with Nonfat Milk.
Favorite fast food?
Lee's chicken or Qdoba
Favorite beauty product?
Anything Fenty by Rihanna. I love their hydrating foundation, bronzer, concealer, and powders. It is one of my guilty splurges.
Favorite snack?
Chips and queso. I love the Tostitos cheese!