Writing Mindset is an online blog that started in February 2017. I like to write about the teaching of writing and reading, professional development for teachers, inspiration for teachers who also write, and self-care.
Links to the Etsy shop where I sell wooden notebooks can be found below and here. Scroll down to hear more about my story.
If you are interested in working with me, please fill out the form below or reach out to me at stephanie@writingmindset.org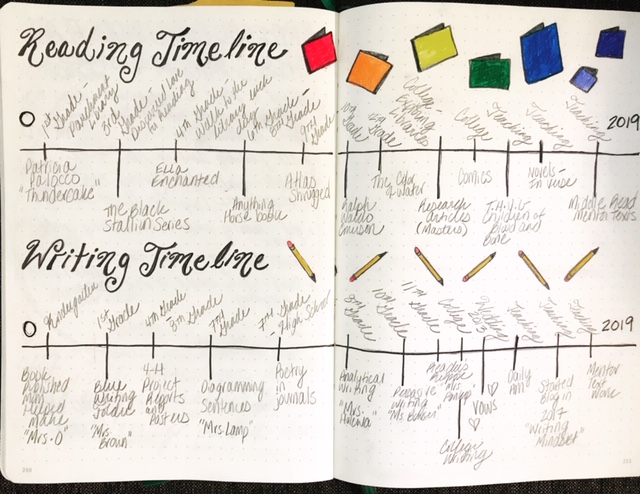 This is me in terms of reading and writing.
Check out my timelines. Try this activity out! How has reading and writing shaped your life?
A Little More About Me…
I am a sixth-grade English teacher in Kalamazoo, MI. Writing Mindset started because I wanted a place to reflect, share, and also put pen to paper (fingers to keyboard) my thoughts. I love writing. I have since I was little. I didn't always love reading, but somehow the two worlds merged together into one when I decided to become an English Language Arts teacher. The things is, I figured out that reading and writing is just the way I do business, not the reason why. The reason why is in the joy I get out of working with students. Relationships drive education. It seems kind of fitting that a blog is about connecting and sharing-the same way that I do in my classroom.
In the third-grade, I found The Black Stallion series by Walter Farley with the help of an amazing librarian, Mrs. Reistrar. I was raised in a household where reading mattered, but whenever we went to libraries I was given the freedom to wander. If you fast-forward through my timelines you can see many different times where I chose to wander around stacks of books. Even on bad days now, you will find me in the bookstore with books. I don't read as many horse books now, but the message has remained the same from when I was young: Give books to kids that they want to read. This may not always be about windows and mirrors; this may be about passion and heart.
My journey with writing has produced the blog, Writing Mindset. I started writing poetry when I was young. I would scribble my thoughts in verse from a young girl. It was a place of emotional release when I was frustrated. I hold this passion in my classroom and give time for students to write each week because they need it. We all need it. Writing is a way to communicate with the world, but more importantly, it is a way to communicate with our own selves. I still am grateful for Mrs. Lamp in 7th grade for making me learn how to diagram sentences, but I am more excited that I get to take the makeups of who I am as a reader and writer now and share them with my students, fellow teachers, and any readers that seem to make it to the blog.